The Society of Friends of St Andrew's, JerusalemPublished 25 Nov 2019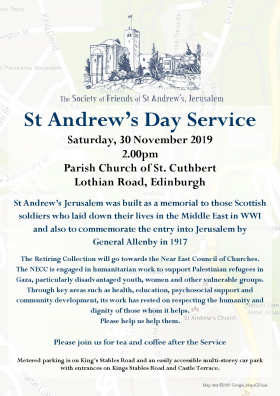 St Andrew's Day Service
Saturday 30th November at 2pm
To be held in Parish Church of St Cuthburt, Lothian Road, Edinburgh
The Retiring Collection will go towards the Near East Council of Churches.
The NECC is engaged in humanitarian work to support Palestinian refugees in Gaza, particularly disadvantaged youth, women and other vulnerable groups. Through key areas such as health, education, psychosocial support and community development, its work has rested on respecting the humanity and dignity of those whom it helps. Please help us help them.

You are welcome to join us for tea and coffee after the Service

Metered parking is on King's Stables Road and an easily accessible multi-storey car park with entrances on Kings Stables Road and Castle Terrace.