Who Cares? ScotlandPublished 19 Nov 2019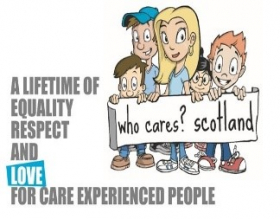 Make Christmas magical for young care leavers
Christmas is a time for love and celebration with friends and family. But, for young people who have grown up in care, it can be a time of tremendous sadness and isolation.
Many Care Experienced people will leave the care system in their teens, to find they have few relationships with family members. Relationships with those who have looked after them within the system them don't always endure, and when Christmas rolls around, many have nowhere to go and nobody to spend it with.
Hundreds of Care Experienced young people across Scotland spend Christmas Day alone, in flats, BnBs, homeless shelters and temporary accommodation.
But it doesn't have to be that way. By supporting Who Cares? Scotland Christmas Appeal, you can make Christmas magical for Care Experienced young people.
Funds raised will help pay for 'Care Family Christmas' – a fabulous Christmas dinner experience with other Care Experienced people, so they too can enjoy friendship, fellowship and love this Christmas.
"When we eventually arrived I was really nervous. As soon as I walked in the door though, I knew it was going to be amazing. Everyone was laughing and cuddling. The decorations were so over the top. It was the Christmas that I saw on the TV growing up. And for the first time, I felt like I belonged and was wanted ."
Care Experienced young person
It takes a lot of work and organising to put this day together. Volunteers transport Care Experienced people from all over Scotland to and from the dinner. They also cook peel thousands of spuds, cook even more Brussel sprouts and serve up turkey with all the trimmings. They wrap hundreds of gifts, and we send Christmas cards to thousands more Care Experienced people, so they know that we are thinking of them.
We must fundraise to cover the costs of our Care Family Christmas which includes everything from venue costs, Christmas trees, gifts, decorations, crockery and cutlery – to the travel expenses of our network of volunteers who transport the dinner guests to us. (We nickname them the Reindeer Squad).
We would be delighted if churches may consider sharing the gift of love by supporting our work this Christmas and making Christmas magical for young care leavers.
Please consider us for any Church of Scotland collections this Christmas. Alternatively please donate at www.whocaresscotland.org/donate
For more information, or to arrange a visit to hear more from us, please email fundraising@whocaresscotland.org